April 29, 2008

Pair elected to National Academy of Sciences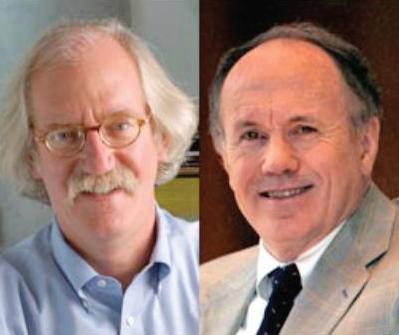 Two Arizona State University professors – Edward Prescott, Regents' Professor and Nobel Laureate, and Luc Anselin, founding director of the School of Geographical Sciences – have been elected to the National Academy of Sciences. They join 10 other ASU faculty members in the Academy, a Washington, D.C.-based organization that advises the federal government on matters of science or technology.
Prescott, who joined ASU in 2003 and is the W. P. Carey Chair of Economics in the W. P. Carey School of Business, is a senior monetary advisor at the Minneapolis Federal Reserve Bank. He was awarded the 2004 Nobel Prize in economic sciences, being lauded for a lifetime of original thinking that has addressed some of the most important long-standing questions in macroeconomics. He shared the prize with Finn Kydland.

Prescott's work on business cycles has recast the way economists think about economic fluctuations, arguing that they represent the optimal response of the economy to various shocks. He also is known for his seminal work in policy analysis, economic development, general equilibrium theory and finance.

"I am honored to be elected to the National Academy of Science. I think it is an indicator of the success that ASU economics is having," says Prescott. "It is a pleasure to work with the students here, including not only the graduate students, but the honors undergraduates I teach as well. I owe my election to my students who I have learned so much from, and to a number of collaborators."

Anselin, who joined ASU last July, is one of the principal developers of the field of spatial econometrics and is best known for his book "Spatial Econometrics" and his development of the applications SpaceStat and GeoDa.

Anselin also serves as director of the GeoDa Center for Geospatial Analysis and Computation, a 4/29/08 7:50 PM Pair elected to National Academy of Sciences | ASU News Page 2 of 2 http://asunews.asu.edu/20080429_nashonor
Anselin also serves as director of the GeoDa Center for Geospatial Analysis and Computation, a new research unit in ASU's College of Liberal Arts and Sciences devoted to the development,
mplementation and application of state-of-the-art methods of geospatial analysis to policy issues in the social and environmental sciences.

"I think this is fantastic and an important recognition of the contribution of spatial thinking and spatial analysis to science. It also means that the School of Geographical Sciences becomes one of the very few geography units in the U.S. where there are two members of NAS among the faculty," Anselin says. NAS member Billie Lee Turner, a national leader in sustainability science, recently joined ASU as the Gilbert F. White Chair in Environment and Society in the School of Geographical Sciences.

"On behalf of the entire ASU community I congratulate Professors Luc Anselin and Ed Prescott on this greatly deserved honor," says ASU President Michael M. Crow. "The scholarship of ASU's faculty and students has been repeatedly recognized by honors, awards, fellowships and grants. Election to the National Academy of Sciences is one of the greatest distinctions that any scholar can achieve."

Prescott and Anselin were among 72 new members who were elected April 29 to the National Academy of Sciences in recognition of their distinguished and continuing achievements in original research. Those new members bring the total number of active members to 2,041.

Other ASU faculty members who are NAS members include Charles Arntzen, Jane Buikstra, Roy Curtiss, Bert Hoelldobler, Elinor Ostrom, John Rowell, Rustum Roy, V. Kerry Smith and Hoyt Tillman.

Carol Hughes, This email address is being protected from spambots. You need JavaScript enabled to view it.This email address is being protected from spambots. You need JavaScript enabled to view it.
480-965-6375
College of Liberal Arts and Sciences