George I. Treyz (1936 - 2013)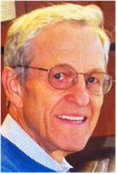 AMHERST - George I. Treyz, 76, died at his home in Amherst on Feb. 14, 2013. He is survived by his wife of 54 years, Sidney; his son Victor and daughter-in-law Susan of San Francisco; his son Frederick and daughter-in-law Enhua of Amherst; his brother Russell and sister-in-law Alice of New York; and six grandchildren, Claire, Henry, Peter, Eric, Justin and Athena.
George was born Feb. 21, 1936, in Callicoon, N.Y. He received his undergraduate degree from Princeton University and received a doctorate in economics from Cornell University. George showed his entrepreneurial spirit at Princeton, starting a business selling grinders to fellow students, as featured in an article in LIFE magazine.
His first teaching position was in the economics department of Haverford College. He joined the faculty of the University of Massachusetts in 1968, teaching for 29 years and writing numerous articles and books on economics and regional science. He became Emeritus Professor in 1995.
George was a pioneer in the field of computerized macroeconomic modeling, starting with research in national macroeconomic modeling in the late 1960s. He was one of the first in his field to develop state and local econometric models. George founded Regional Economic Models, Inc., in 1980 with a vision of improving government policy through economic analysis. George had a passion for all aspects of economic modeling including its theoretical foundations and applications. He inspired academic researchers, his staff and practitioners with his dedication and enthusiasm. His wife Sidney was involved with REMI from its beginnings and his son Frederick continues to guide REMI today.
George was devoted to his wife and family. He was an involved and loving father and took great joy in spending time with his children and grandchildren. He and Sidney enjoyed life-long friendships and travel. George enjoyed life to its fullest and had many interests including painting, gardening, cooking and outdoor activities.
Donations may be made to UMass Amherst Friends of the Libraries, For: George I Treyz Fund for Economic Reference Materials, Friends of the Libraries, UMass Amherst, W.E.B. Du Bois Library, 154 Hicks Way, Amherst, MA 01003-9275.