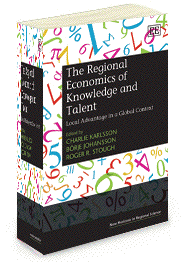 Edited by Charlie Karlsson, Börje Johansson and Roger R. Stough
This original and instructive new book defines and explores the concept of knowledge as the talent, skills, know-how and understanding embodied in individuals. The distinguished contributors advance the current research frontier in three novel directions which focus on: the role of human capital and talent for creativity, entrepreneurship and regional development; the role of institutions for the behaviour of firms and entrepreneurs; and the influence of the global context on the location, export and innovation behaviour of firms in a knowledge economy. They also address critical questions that underpin the emerging knowledge economy:
• Why does human capital and talent tend to agglomerate in large urban regions?
• How does this agglomeration affect the location of different types of economic activities?
• How does this agglomeration affect regional growth?
Presenting the state of the art in the field of knowledge economics, this book will prove a stimulating and challenging read for scholars and researchers with an interest in economics, business and management, and regional and urban studies.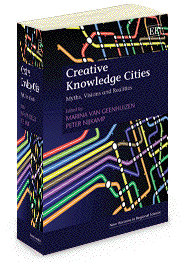 Edited by Marina van Geenhuizen and Peter Nijkamp
This book adopts a holistic, integrated and pragmatic approach to exploring the myths, concepts, policies, key conditions and tools for enhancing creative knowledge cities, as well as expounding potentially negative impacts of knowledge based city policies. The authors provide a critical reflection on the reality of city concepts including university–city alignment for campus planning, labour market conditions, social capital and proximity, triple helix based transformation, and learning by city governments. Original examples from both the EU and US are complemented by detailed case studies of cities including Rotterdam, Vienna and Munich. The book also examines the reality of knowledge cities in emerging economies such as Brazil and China, with a focus on institutional transferability. Key conditions addressed include soft infrastructure, knowledge spillovers among firms and the connectivity of cities via transport networks to allow the creation of new hubs of knowledge-based services. Addressing new policy tools and developments in governance, this book will prove a fascinating read for academics, researchers and students with an interest in urban policy and planning, urban spatial economics, regional economics and urban sociology. In addition, practitioners within city and regional governments and agencies will find this book an invaluable reference tool.
Edited by Peter Nijkamp, Jacques Poot and Mediha Sahin
During the last few decades the world has experienced an unprecedented level of cross-border migration. While this has generated significant socio-economic gains for host countries, as well as sometimes for the countries of origin, the costs and benefits involved are unevenly distributed. Consequently, growing global population mobility is a hotly debated topic, both in the political arena and by the general public. Amidst a plethora of facts, opinions and emotions, the assessment of migration impacts must be grounded in a solid scientific evidence base. This analytical book outlines and applies a range of the scientific methods that are currently available in migration impact assessment (MIA). The book provides various North American and European case studies that quantify socio-economic consequences of migration for host societies and for immigrants themselves. With up-to-date and broad coverage, this detailed study will appeal to academic researchers in the social sciences, policy analysts at national and international level, as well as graduate students in economics and regional science.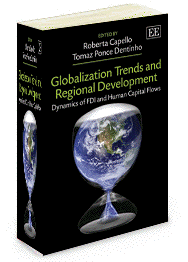 Edited by Roberta Capello and Tomaz Ponce Dentinho
This timely book investigates the challenges that emerge for local economies when faced with the new globalization trends that characterize today's world economy. In this instance, globalization is interpreted as a process of internationalization of production and markets which can take various forms - such as increasing international trade or increasing foreign direct investments - all of which give rise to the growing integration and interdependency of European economies with regard to the other main world economies. The expert contributors use a fresh perspective in their analysis of globalization trends, emphasizing recent changes and providing an up-to-date picture of current developments in both foreign investments and the consequent migration of human capital. Qualitative rather than quantitative trends in human capital and financial capital flows are taken into account, with a particular focus on their impacts on regional growth perspectives. Highlighting the European economy's strengths and weaknesses in facing the challenges of the new globalization trends, this book will provide a stimulating read for a wide ranging audience encompassing scholars of regional science, regional economics, economic and regional geography, international economics and international business.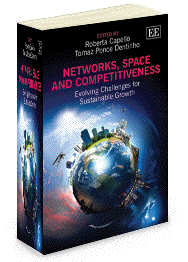 Edited by Roberta Capello and Tomaz Ponce Dentinho
In a period of increasing globalization and rapid growth in emerging countries, recognizing sources of regional competitiveness is of paramount importance. This timely and informative book identifies and analyses changes in the origins of regional advantage. The expert contributors illustrate that sources of regional competitiveness are strongly linked with spatially observable yet increasingly flexible realities, and include building advanced and efficient transport, communications and energy networks, changing urban and rural landscapes, and creating strategic and forward-looking competitiveness policies. They investigate long-term interactions between regional competitiveness and urban mobility, as well as the connections that link global sustainability with local technological and institutional innovations, and the intrinsic diversity of spatially rooted innovation processes. A prospective analysis on networks and innovation infrastructure is presented, global environmental issues such as climate change and energy are explored, and new policy perspectives - relevant world-wide - are prescribed. Networks, Space and Competitiveness will prove an invaluable resource for academics, students and researchers across a range of fields including international and regional economics, regional science, economic geography and international business.