---
Congress Venue:
Birla Institute of Technology & Science: the K K Birla Goa Campus.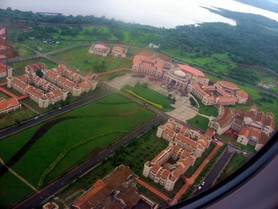 Spread over 180 acres of land along the Zuari River, the campus has breathtaking serenity and panoramic beauty. Barely 5 kms from the Dabolim Airport, it is situated 10 kms from the quaint and beautiful Vasco City with its port handling cargo, Portuguese style homes, churches and markets steeped in history, and 25 kms from Panjim, the capital city. The campus is secure and has a rigorous security mechanism is in place, at the point of entry as well as all over the campus. Taxis are available on call for venturing out of the campus. All auditoriums, lecture theatres and classrooms are wifi enabled, having projection and sound facilities, maintained by in-house staff who are helpful and available at all times. Canteens and cafeteria serving around 3000 students, faculty and staff are well equipped and serve with a smile. There is ample parking space for outstation delegates who wish to hire cars and bikes to make trips to and from Panjim, Madgaon, Bogmalo, Vasco or other locations.

---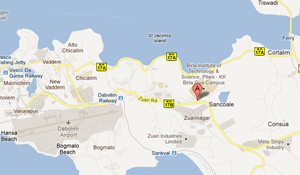 Address:
Birla Institute of Technology & Science, Pilani - K K Birla Goa Campus,
NH -17B, Zuarinagar – 403 726,
GOA,
INDIA
---
How to reach Goa Campus
Mode of transport & fare (in Rs. approx.)
From
Vasco
Madgaon
Panjim
Airport
Bogmalo


Distance in Km
​10
28
30
​05
​05


Bike Rider
170/-
450/-
450/-
​-------
​100/-


Auto rickshaw
​200/-
500/-
500/-
-------
-------​


​Taxi
250/-
600/-
600/-
250/-
250/-


Bus
15
25
35
10
​-------

Note: The fare mentioned above are subject to variation as per market demand.